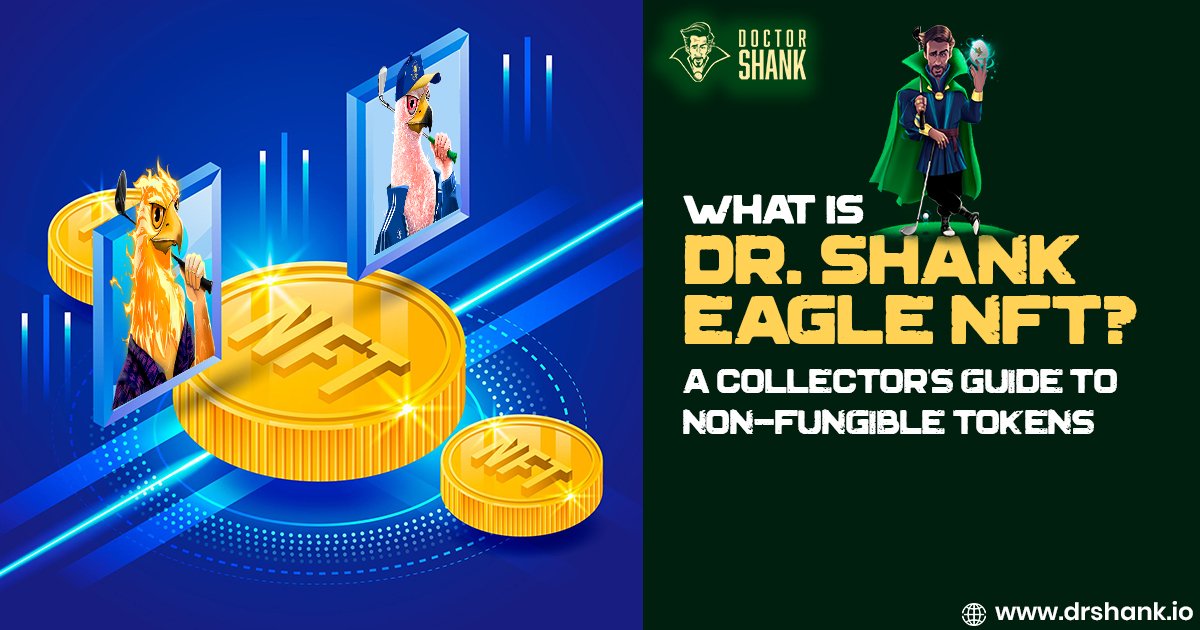 If you are a golf fan and looking to join a global digital community of golf players and fans that also rewards you, you'd love to know about Shank NFTs. So, what exactly is Shank NFT? Let's find out.
Before we start with Shank NFTs, let's first get a brief idea of what NFTs are all about.
What are NFTs?
NFTs or non-fungible tokens are blockchain tokens that can be used to transform digital artwork or assets such as images, files, videos, etc. into digital tokens that are not mutually interchangeable but can be bought and sold (traded) online.
In simple terms, NFTs allow people to transform and sell their digital assets as tokens on a blockchain. The result is increased liquidity and reach for such digital assets.
By purchasing and owning popular NFTs, you can get ownership of some rare and unique digital assets or collectibles. Moreover, you may also be rewarded for owning NFTs such as Dr. Shank Eagles.
Why should you collect NFTs?
Today, NFTs are the best way to purchase and own rare collectibles. This can be anything from watches to artwork, music files, CDs, gifs, etc.
Finding and accessing rare collectibles is not easy. People spend all their lives trying to search for rare coins, cards, stamps, baseball pins, etc. NFTs are convenient and secure.
People who already own rare assets and want to sell them can take the NFT route to connect with those who are interested in buying them and can identify their right value based on uniqueness.
Moreover, NFTs are very secure and immune to fraud. All NFT owner records are securely stored on the blockchain in an immutable database that can be publicly accessed and verified. It is practically impossible to steal an NFT.
People looking to simply make a profit through crypto trading can also choose NFTs for their high demand and tradeability.
Many popular NFTs are fetching millions of dollars for traders worldwide. And thanks to multiple NFT exchanges out there, buying, selling and trading NFTs is as easy as anything.
What is Dr. Shank's NFT and how can you own it?
Dr. Shank's Eagles NFTs are a collection of 9,999 unique Eagles artwork created using around 60 different items. Each Eagles NFT is unique from others and based on the game of golf.
Some of the Eagles NFTs have names of professional golf players hidden in them. This is how owners of these NFTs can win exciting rewards.
So, there is a reward pool (ETH), from which rewards are distributed to NFT owners based on the results of top golf tournaments around the world.
For every selected PGA, LPGA, European Tour and Ladies European Tour, holders of winning Eagles (NFTs) will be rewarded with Ethereum from the reward pool.
1st place (in the game) — 3% of the total available reward pool ETH
2nd place: 2% of the total available reward pool ETH
3rd place: 1% of the total available reward pool ETH
That's not all.
Dr. Shank's Eagles NFTs give you access to the most exclusive Golf Community in the world
, with the ability to buy golf accessories using Shankoin, get access to some of the best golf courses in the world and win exciting rewards.
You can purchase Dr. Shank's NFTs only from the official website
https://drshank.io
, for now. We may soon launch on one or more NFT marketplaces.