Trading via MetaTrader5: Binance, Poloneix, KuCoin, Okex, Kraken and others
i-PANDORA
After 8 months of work, we launched the first product - trading on the top crypto exchanges (Binance, Kraken, Poloneix, KuCoin and others) via MetaTrader 5, via the API. We purchased the MetaQuotes license to use the MetaTrader terminal and, together with the MQ developers, created a gateway for trading. Every 2-3 weeks we connect new well-known, liquid cryptobirds, add new functions in MT and on the site.
Our solution allows us not only to use many exchanges, but also to quickly switch between them, as well as use trading robots, our own trading systems and indicators written in MQL.
Trading robots for MetaTrader. The best option is to remake an existing robot from Forex under a cryptographic exchange, and using i-Pandora service you easily install a profitable trading robot into the MetaTrader 5 trading terminal, which is connected via an API to your cryptocurrency exchange, set up, and then the "advisor" starts to lead trading according to the strategy programmed in it, online 24 hours a day.
Trading signals in MetaTrader. Copy the trades of successful traders or broadcast your signals. Right inside the MetaTrader platforms, you can access trading signals (copy-trading) - a service for automatically copying transactions from one account to another. The principle of its operation is simple: one trader gives access to his operations in the financial markets - others subscribe to it. As a result, all provider's transactions are automatically repeated on the subscribers trading accounts.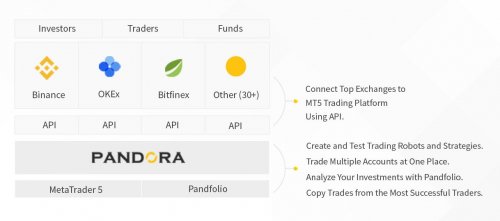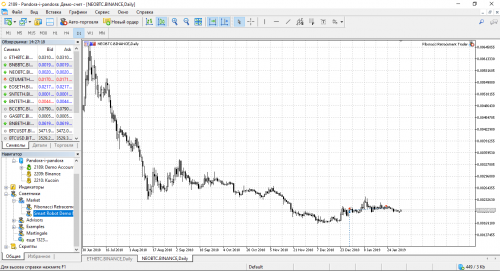 PANDFOLIO
is an analytical service that allows traders to monitor, analyze, manage and track the profit / loss of their accounts / portfolios in one place. When adding a cryptobirth to your API, you can monitor the statistics of all your coins automatically. Formation of statistics / history of all trades / input and output of coins from the exchange, through the download of a CSV file to our service.
A mobile app for Android and iOS will soon be launched for easy tracking of its crypto portfolio, and an Apple Watch widget.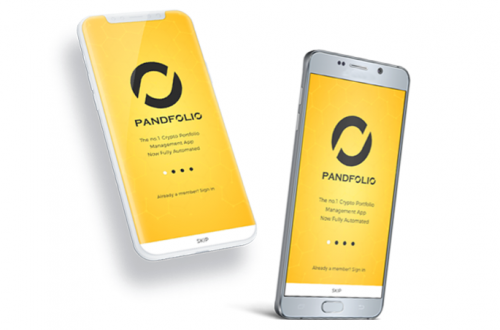 PANDORA TODAY
- This is an informational analytical portal. In which we combined the Twitter aggregator of persons of influence in the crypto-community, twitter from the creators of cryptocurrency and ICO projects, twitter from cryptobirth and news sources about cryptocurrency. The portal is unique because when you activate your account on Pandora and add an exchange API, you will be offered information and analytics on the pandora.today portal according to the coins in your crypto portfolio. Convenient filter allows you to customize the flow of news according to your wishes.
In the Analytics section, you will be provided with analytical information about cryptocurrencies. Ideas of the most readable and popular traders on the TradingView service, all information is selected for your crypto portfolio.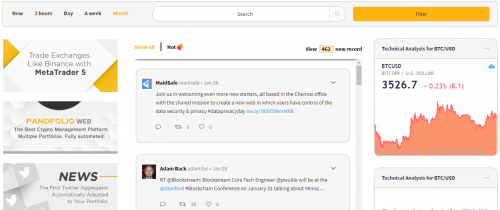 In the future, we will have a lot of interesting and effective products for traders and investors that we are working on and that will help in the field of cryptocurrencies.
By registering once with our Pandora service, you'll get everything you need for trading in one place.
References:
i-pandora
trading via MetaTrader 5
pandfolio.com
control and analysis of the crypto portfolio
pandora.today
twitter cryptographic aggregator and analyst
Facebook
Twitter
Telegram