Exchange247

is a convenient and reliable online service that will allow you to profitably sell and buy cryptocurrency. Here you can safely and quickly exchange crypto assets for fiat money and vice versa.

All transactions pass AML verification.

With Exchange247, you can be sure of the profitability of the exchange and the purity of your money.

Our service will allow you

profitably exchange the most popular cryptocurrencies:

On Exchange247: you can

withdraw funds to various popular payment systems and bank cards:


Loyalty program



Do you want to conduct exchanges from fiat to crypto on your own website? Do you need a ready-made script?

Connect to the Exchange247 service via the API. With the help of integration, your clients will be able to exchange their assets quickly and safely. Our program is not only convenient but also profitable. On an individual basis, you will

receive interest for each client brought in

. To get acquainted with the terms of connection, register in the Agent's cabinet.

Exchange of cash for cryptocurrency

Exchange247 provides an opportunity to exchange USD cash for cryptocurrency and vice versa. The exchange can be made in any regional center. For your convenience, we have created a Telegram bot. In it, you can select the nearest receiving point and track the transaction status. As soon as it is confirmed, you will instantly receive an alert.
Available Destinations:
Tether (ERC20 USDT) ⇔ USD
Tether (TRC20 USDT) ⇔ USD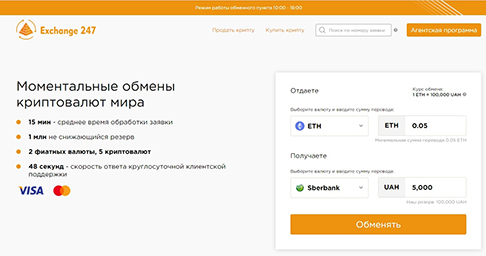 Main Advantages of Exchange247:



No commission is required.

The service does not charge any hidden or unjustified payments.

Checking the cryptocurrency for "dirt".

All assets are subject to mandatory AML verification. Therefore, the cryptocurrency that you buy on our platform is always "clean".

Quick exchange.

Thanks to the innovative software installed on the exchange servers, each operation takes 5-30 minutes.

High-speed tech support.

Our managers are ready to answer your questions at any time of the day. 48 seconds is the average response time to the request.

Quickly replenished reserve

. Do you want to exchange a large amount that exceeds the limit? Contact support, and we will help you. You can also submit a request to track the reserve. When we have the amount you need, you will receive a notification by email.




Contacts:



Our website:

exchange-247.com/

E-mail: info@exchange-247.com Telegram: https://t.me/Exchanger247Bot Feedback form:

my.exchange-247.com/contacts/

Online chat on the website