CryptoConvert: A Cryptocurrency Exchange Rate Calculator for Android
​
This is an Android project I've been working on which provides an easy way to compare the values of different cryptocurrencies while you're on the go. I have plans to add more features and improvements but was hoping to get some feedback on what could be done better.
Right now there are 2 different "modes" to the app - Single Mode and Multi Mode. In Single Mode, you get a 1-to-1 conversion between whatever two currencies you choose. When you're in Multi Mode, the first currency gets converted to your entire favorites list at once - which is personally my preferred way to use the app because it saves time. You can swap modes by pressing the button in the middle of the app.
Main Features:
Use the new multimode to calculate conversions for your entire favorites list at once
Colorful icons for all supported cryptos and national fiat money
Calculate the conversion of any combination of available currencies! Crypto to crypto, crypto to local, local to crypto, even local to local if you're just traveling to a new country!
Supports 100 Cryptos with the largest market cap
132 Fiat Currencies from around the world
Instantly calculates while you type, even when you're in multimode!
Save favorites for easy access + view them all at once via multimode
Works Offline! Traveling abroad and have your phone on Airplane Mode? Exchange rates are cached locally so even if you lose internet connection, you can still perform calculations based on the last-known exchange rates for all currencies
Clean and easy to use UI based on modern material design
Super fast update time - no waiting around for the newest exchange rates to be fetched
App is translated to over a dozen languages including English, Hindi, French, and Indonesian

VIEW ON GOOGLE PLAY: https://play.google.com/store/apps/details?id=com.mnm.cryptocurrency.cryptoconvert
CryptoConvert Free vs Pro:
There is also a Pro version of the app available ($0.99), which adds a few additional features and functions. However all of the core main functionality is of course still available in the Free version. Here is what the Pro version of the app offers over the Free version:
#1) Removes advertisements
#2) Gives access to a settings page
These settings allow you to customize the app to your own use case and lets you set app-defaults so you don't have to waste time or clicks changing things when you start the app. You can set the default currency 1 you want to convert from as well as the amount. You can also specify the default single mode "to" currency when you're in Single Mode, or you can even change the Multi Mode list to be either your Favorites or the entire list of Cryptos or Fiats (whereas the Free version Multimode is only limited to your Favorites list). There are a few other settings as well, including a default list sort if you want to sort any of the lists in the app by Ticker Symbol, Name, Value, etc.
VIEW PRO ON GOOGLE PLAY: https://play.google.com/store/apps/details?id=com.mnm.cryptocurrency.cryptoconvert.pro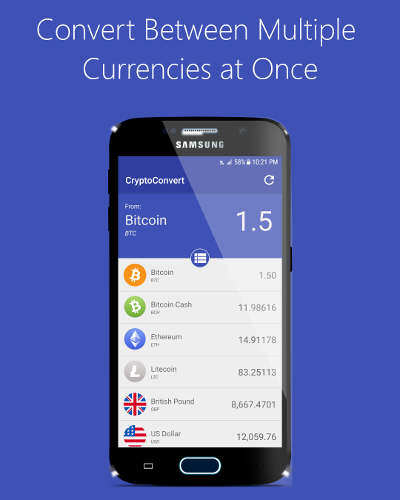 CryptoConvert PRO Download Codes:
If anybody is interested in checking out the Pro version of the app, here are 25 free download codes for the premium version of CryptoConvert. You can redeem the promotional codes on Google Play here:
https://play.google.com/redeem
KL1EMJS8TTLB6520T5RXPYY
T6318F6CH40W4HQW538KZ8C
50DNGK0K1QSAMXSTE9NS4NA
0W9HZJ650HA55AB6RA5F0K4
NXDN57RW10NQSY6YSC4T76M
DQ76FG9TAWCRXMVNPXGGMVB
2F8861Y4XNBA6NBG19FJU7Z
DRPVKX4XR2N3VDY1Y9LLYEH
DU9MM22ZUR53ZXGUS83NG3G
X0T3RNZYBGXALFRG7446YJ7
ESANFSWWVYPJNUT35YZYL5Y
4WQRZYV04S8KP8H9VT2XKFS
V6D1NUU2Q0YLWTDQMVFDPCK
7JKYZ23LXWKPEK0T3P3S8FL
GH7X4GKALKX13C4PSV8R4AB
E3GYKD8UG6M81XGR0S1UECV
K3T93D8G1TUGG0TMR4R42BN
2THMBEHBW5JU9NSH9TCU2CF
4PGEUNH9ACQ1P49T6PTARN3
XJJNDNMYH8E42JCJXAPPE7L
LKW5MUE66D2GY4CP86GNSV5
43UQSS9RVFBSRQQ3S1NCB0Y
2T1KU7MT60LDMXTU0SLZ4B7
N8FNRQHQN434BRAH27QXW4W
S3E5NF7SDDAA66396Z200E0
Feedback:
I'm really looking for any sort of feedback, whether it's things you like best about the app or things that you think could be improved. If you can take the time to write something, I would really appreciate it so I can improve the project! A review on Google Play would go a long way, otherwise feel free to DM me here, comment, or send me an email at: mnmapplications ( at ) gmail.com.
Thanks!
CryptoConvert Free:
https://play.google.com/store/apps/details?id=com.mnm.cryptocurrency.cryptoconvert
CryptoConvert Pro:
https://play.google.com/store/apps/details?id=com.mnm.cryptocurrency.cryptoconvert.pro