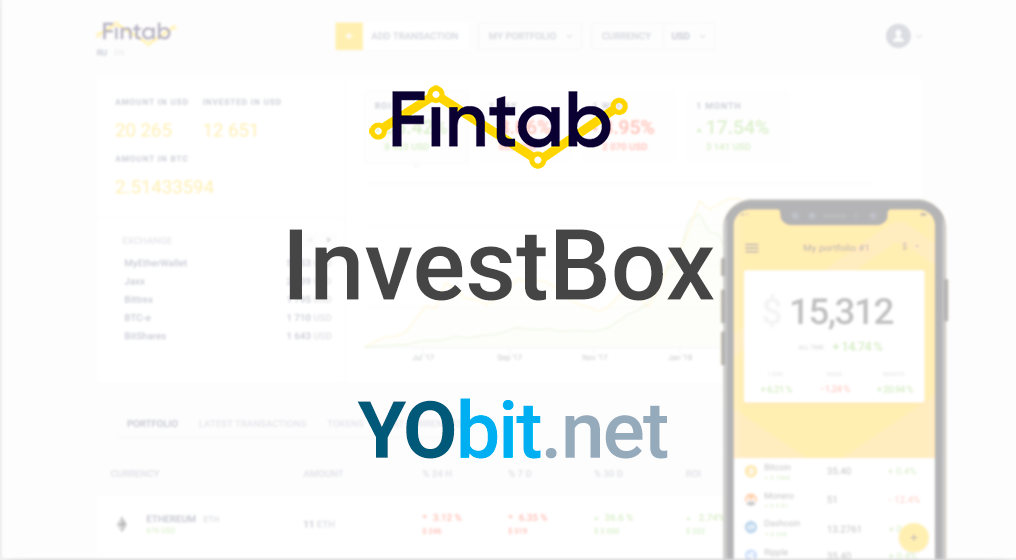 We are making service for accounting tracking of cryptocurrency. In February, we have finished ICO and now we are holding
Investbox
.
This is a great opportunity to make profit on real project, without losing on Liza and Lambo!
About Investbox:
Coin: FinTab (FNTB)
https://yobit.net/en/trade/FNTB/BTC
Interest rate: 3%
Payment frequency: Daily
Minimal deposit: 200
Maximum deposit: 5000
Special features of Investbox and project.
Investbox by developers is not a short-term pump or waste of tokens.
Fintab — is a service for cryptocurrency tracking and monitoring of your portfolio. This app is working effectively and dynamically developing by our team:
https://play.google.com/store/apps/details?id=io.fintab.fintab&hl=ru
- Android
https://itunes.apple.com/app/fintab-crypto-portfolio/id1349747379
- iOS
https://beta.fintab.io/changelog
- Web app
https://fintab.io/ico/
- information about token and successful ICO completion.
https://bitcointalk.org/index.php?topic=2193271.0
Token is a payment mean in the service. The more the number of the users — the higher the token's price will be. That's why it is reasonable to hold token and wait for its active demand by users.
The main thing — when will be the launch?
Launch is on
12th of July
.
Keep up the pace! Stay tuned and don't miss the opportunity to take part in cool Investbox by real project!
https://t.me/investb_o_x
- chat room about Investbox from Fintab
https://t.me/fintab_chat_ru
- service chat room
P.S.
— 3% interest rate? Why so little?
— Because this is not a shitcoin. It is a coin in real project.